Phew! The day has finally come to the doors. This is the farewell to us. I, the class monitor of grade 10-2079 am utterly shocked how fast the day has come and how fast our 13 years has come to an end. They rightly say, "Time flies."
First and foremost, I want to thank the school administration for giving me this platform to speak my mind and I also want to thank the student council. I hope student council evolves more and more after we are gone. I also want to thank the student council for letting us be aware of the importance of giving back to the society, not only the student council but all the students present here, need an accolade.
Truly, this school life has been delightful. I will never ever in my life, forget these 13 years. I will keep this love in a photograph and keep this love to ourselves. I will never ever forget the teachers who taught this whole batch from childhood till today. There are some teachers who aren't here but all of them will remain in my heart. Thank you all and hope everyone lives their life to fullest and know that we are just starting our life. Goodbyes hurt yet memories stay back. Love you all!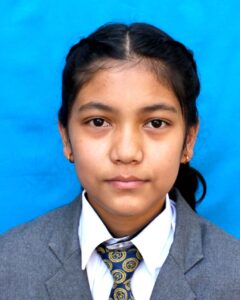 Diya Shrestha
Grade X