On the final full moon day of the lunisolar calendar month, which normally occurs in early March, the Hindu festival of colors 'Holi' is observed. In Nepal, it is often referred as 'Fagu Purnima'. Holi is observed as a festival to mark the arrival of spring, successful harvests, and the fertility of land. This festival lore suggests that it was first held to commemorate demon Holika's demise. Hiranyakasyapu's sister is Holika and son is Prahlad. In Hiranyakasyapu's opinion, he was the only person with power greater than anyone. Yet, Prahlad, his son, had a strong devotion to Lord Vishnu. When Hiranyakasyapu saw his son's utter devotion, he did not like it and asked help from his sister Holika to kill his son. They tried several times to kill Prahlad, but attempts always failed since Lord Vishnu protected Prahlad.
Holika had received a blessing from Lord Bramha that enabled her to be protected from fire. So, she jumped into a fire with Prahlad. But Holika was surprised to find herself destroyed by the fire while Prahlad (a Lord Vishnu devotee) was left unharmed as Lord Brahma's blessing could only be used for good purposes. In this way, people started to celebrate Holi with color and water to commemorate god's triumph over evil. The Holi starts one week before the main celebration. A long bamboo stick(lingo)covered with pieces of different colors of cloth(chirr)is kept standing at Basantapur Durbar Square at country's capital Kathmandu. The main day of Holi is celebrated one day prior to Lingo being taken down and Chir burnt down. It is called Chirr Haran or Holika Dahan. The ashes are carried home by devotees as 'Prasad' as it is believed that it will protect them against evil. People play with different colors on this day as token of love. It is usually celebrated for a week long in Terai. We can observe people throughout the street getting color smudged over their face and body. Nowadays, People celebrate Holi beyond religious boundaries. Family, friends, relatives get together to break the monotony of life.
It is also an outburst of youthful exuberance throwing colors, water balloons (Lolas), and water guns (Pichakarees). All the sweet treats and delicacies are served like Gujiya, Malpua, pancakes to keep people energized. Holi is a festival of joy and fun. Wishing you a Holi filled with sweet moments and colorful memories to cherish forever, let's celebrate by spreading joy, love, happiness, colorful moments and most importantly celebrate responsibly with full of enthusiasm.
HAPPY HOLI!!!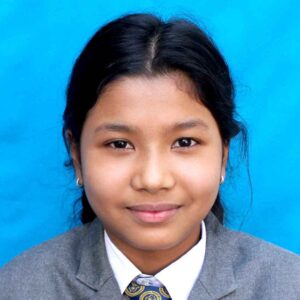 Shriya Khadgi
Grade IX