'Teej' is one of the biggest and most anticipated festivals of Hindus and purely a women's festival celebrated in Nepal and North India. Women commemorate this occasion in appreciation of their happy marriages and with a wish for the long lives of their husbands. This festival also has a nostalgic undertone where women basically reminisce their former home. It is mainly celebrated for three days. (Feast day, Fasting day and finally Rishi Panchami). The third day of Bhadra Shukla Paksha, which usually comes in early September or late August, is when Teej is traditionally observed. In order to welcome the Monsoon season, a three day event is held. The northern and western states of India and Nepal celebrate Teej with an extreme enthusiasm. The 'Hariyali' Teej festival is also held in remembrance of the day Lord Shiva and Goddess Parvati reconciled and declared Parvati to be his bribe. It is believed that Godess Parvati practiced fasting and austerity before Shiva finally agreed to embrace her as his wife at the age of 108.
The word 'Teej' literally refers to a red-colored bug that emerges from the ground during the rainy season. The Teej festival is a red-themed celebration since it is thought that the name of the celebration is also originated from the same bug. According to Hindu mythology, the king (Parvati's father) wanted to arrange a marriage to Lord Vishnu but with the aid of her companion, she managed to elope with Lord Shiva. As a result, this day is also regarded as Lord Shiva's and Goddess Parvati's reunion. It is a celebration honoring divine essence of Lord Shiva and Goddess Parvati. Furthermore, it also marks the enjoyment of nature, greenery, rain, and much more. Typically, this event includes a lavish feast, a day of rejoicing by singing and dancing, fasting and other activities.
Hindu unmarried women fast on this day to find a spouse like Shiva who loves his wife more than himself vows to protect them eternally while the married ones fast for the prosperity and long life of their husbands. On this very special occasion, people invite their married daughters back home to have a feast and celebrate the festival collectively. Women are seen wearing red sarees and valuable jewelries. Thus, the 'Teej' festival is fundamentally known as the festival of Nepali women as it fosters happiness and enhances relationship between the spouses and their families. Finally, I would like to wish you a very happy 'Teej'.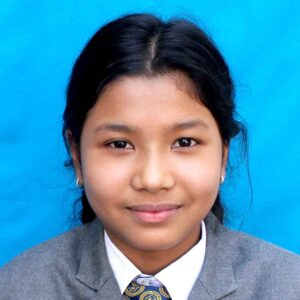 Shriya Khadki
Grade-9